Last Updated on February 26, 2022 by Kristi Linauer
Today I'm finally ready to share the full before and after of my mom's finished kitchen.
I have no idea what to call this. It was way more than just a makeover, but not quite as extensive as a remodel. My mom wanted some upgrades in her kitchen, but she didn't want it turning into a full-blown remodel with cabinets being torn out, and she also didn't want anything that would require her whole house being redecorated.
So any changes we made in the kitchen had to coordinate with her existing furniture, draperies, and decor in the breakfast room and family room.
With that in mind, we chose a new cabinet and wall color to coordinate with her existing draperies and furniture, and then took about eight weeks to turn this…
…into this…
And this…
…into this…
Isn't that a remarkable difference? It's such a huge difference that it almost feels like a complete remodel. But as you can see, we did keep the original cabinets, although we upgraded them quite a bit.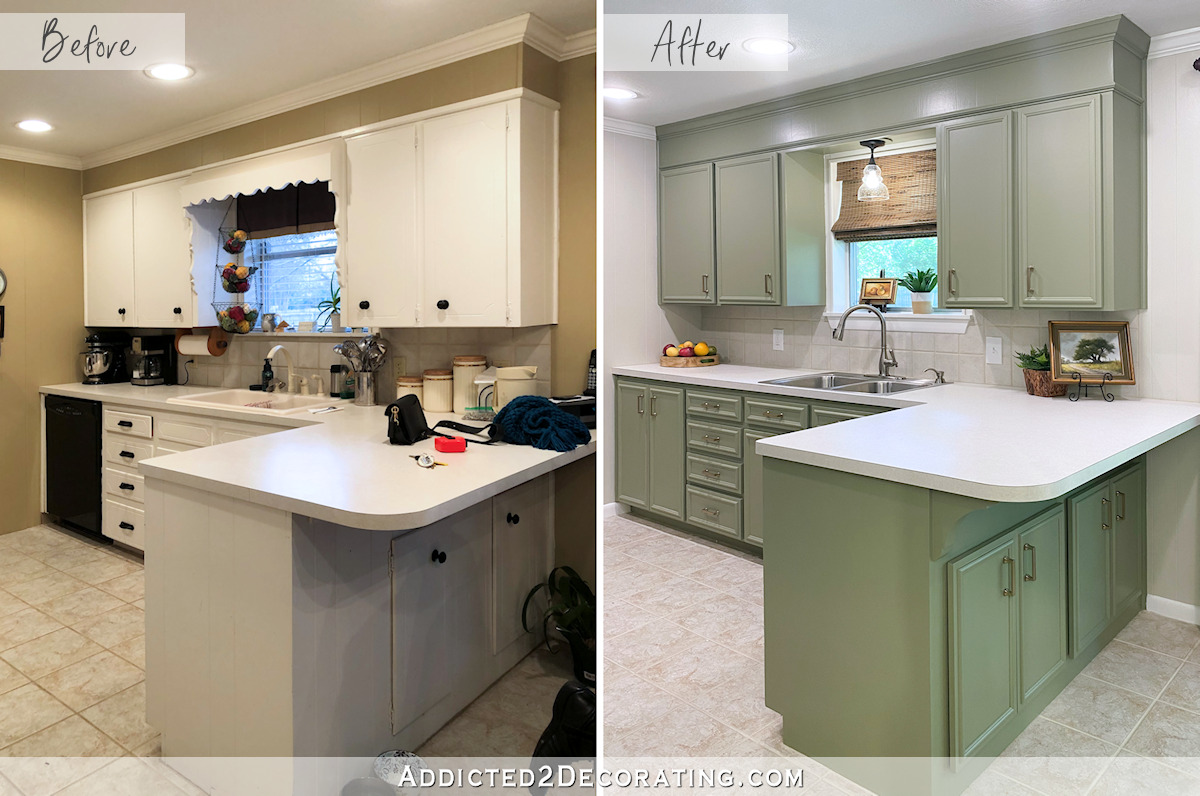 The cabinet color is a Valspar color called Sweet Carolina, but we had it color matched in Behr Premium Plus paint in an eggshell finish, and then topcoated with General Finishes High Performance Topcoat in a flat finish. The new wall color is a Behr color called Aged Beige, and we used an eggshell finish.
There was so much that went into this not-quite-a-remodel, so I'll try to give you as much detail as possible.
My mom didn't want to do anything terribly extensive. After all, this was supposed to be a quick makeover, so new floor tile or backsplash tile was out of the question. So we kicked off this whole thing by changing the color of the grout on the floor tile and the backsplash tile using Grout Renew.
Grout Renew is magical. It's a paint-type product that's specifically made to change the color of grout, and the before and after is truly amazing. Here's a picture of the in-progress Grout Renew process. See how it seems to change the actual color of the tile?
That dark grout really accentuated the dark colors in the tile, where the light grout seems to highlight the light colors in the tile and make the darker color kind of disappear.
Of course, the changes we made to the actual cabinets made the biggest difference in the kitchen. The original cabinet doors and drawer fronts were the thin ones from the 60s that had the routed design around the edges. And of course, there was also the scalloped canopy around the window area.
We kept all of the original cabinets, but we made all new cabinet doors and drawer fronts, removed the scalloped canopy around the sink and window area, replaced the trim just above the canopy (since it had been cut in order to install the canopy), filled in the lines of the paneling with wood filler and sanded those smooth, and then took the cabinet paint color all the way to the ceiling.
The new cabinet doors and drawer fronts are very simple in design — 3/4″ plywood with edge banding around the edges, and a simple trim to dress up the fronts. Then we added new hardware.
I was so shocked at the difference in the window area without the scalloped canopy. Just that one simple change went a long way towards making the kitchen feel updated and fresh. But it also made the kitchen feel more open and brighter. It was such a small change for such a huge payoff.
And you'll also notice that we changed out the sink and faucet, swapped out the almond-colored switches, outlets, and face plates with new white ones, added a new woven shade from Lowe's, added a new pendant light where the can light above the sink used to be, and added a piece of trim below the window sill. One of my mom's paintings and a new cute little plant added the finishing touches.
The back of the peninsula got a huge makeover as well. Before we got started, the back side (i.e., breakfast room side) of the peninsula had two ill-fitting cabinet doors that had been installed by my dad as an afterthought about two decades ago. My dad was one of those "get it done" kind of people, so making it look nice wasn't really a priority for him. He had two extra cabinet doors, and he decided to put them to use. 😀
We removed not only the doors, but the entire facing on this side of the peninsula…
…and I rebuilt it from scratch. Now it has four doors instead of two, and they're actually symmetrical and much more pleasing to look at. I also added some corbels to balance out that 12-inch overhang of the countertop.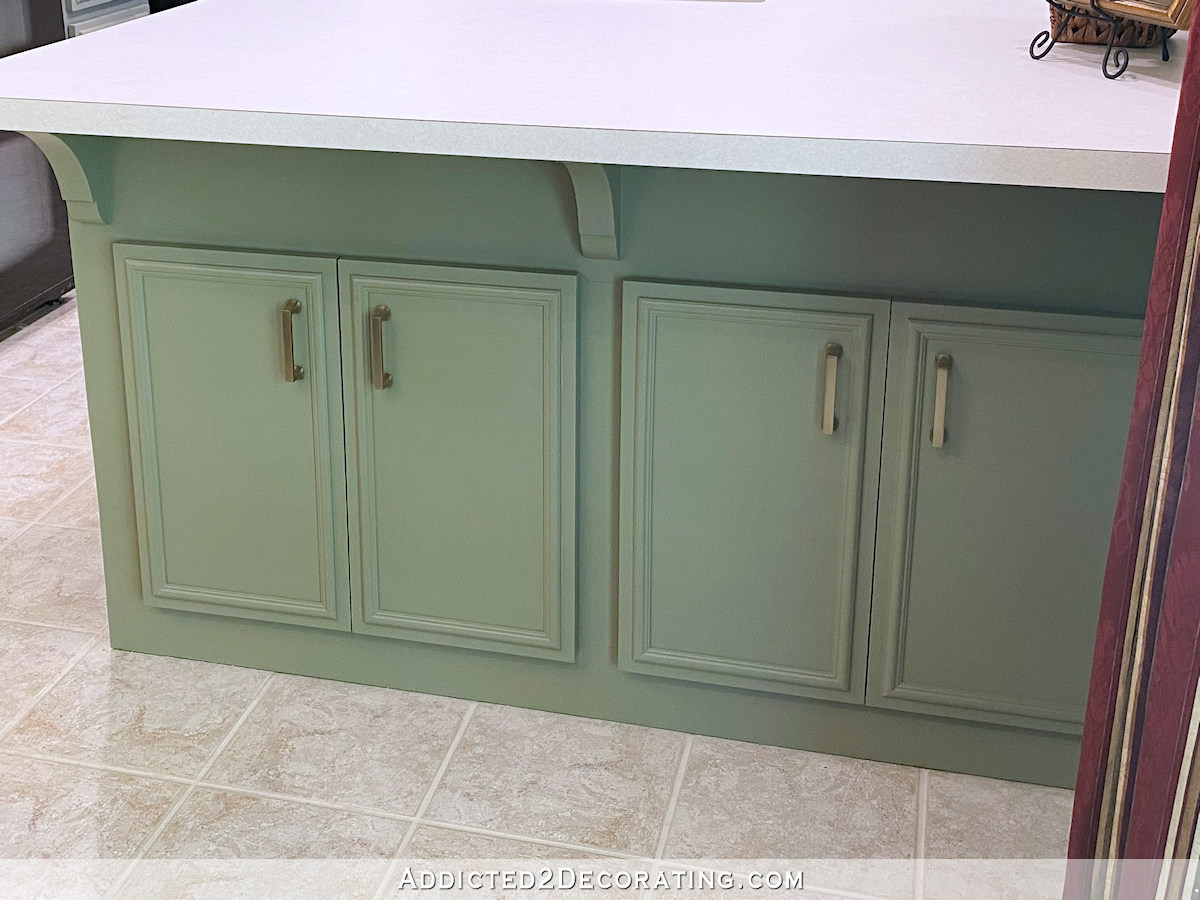 Now the back of the peninsula looks intentional rather than like an afterthought.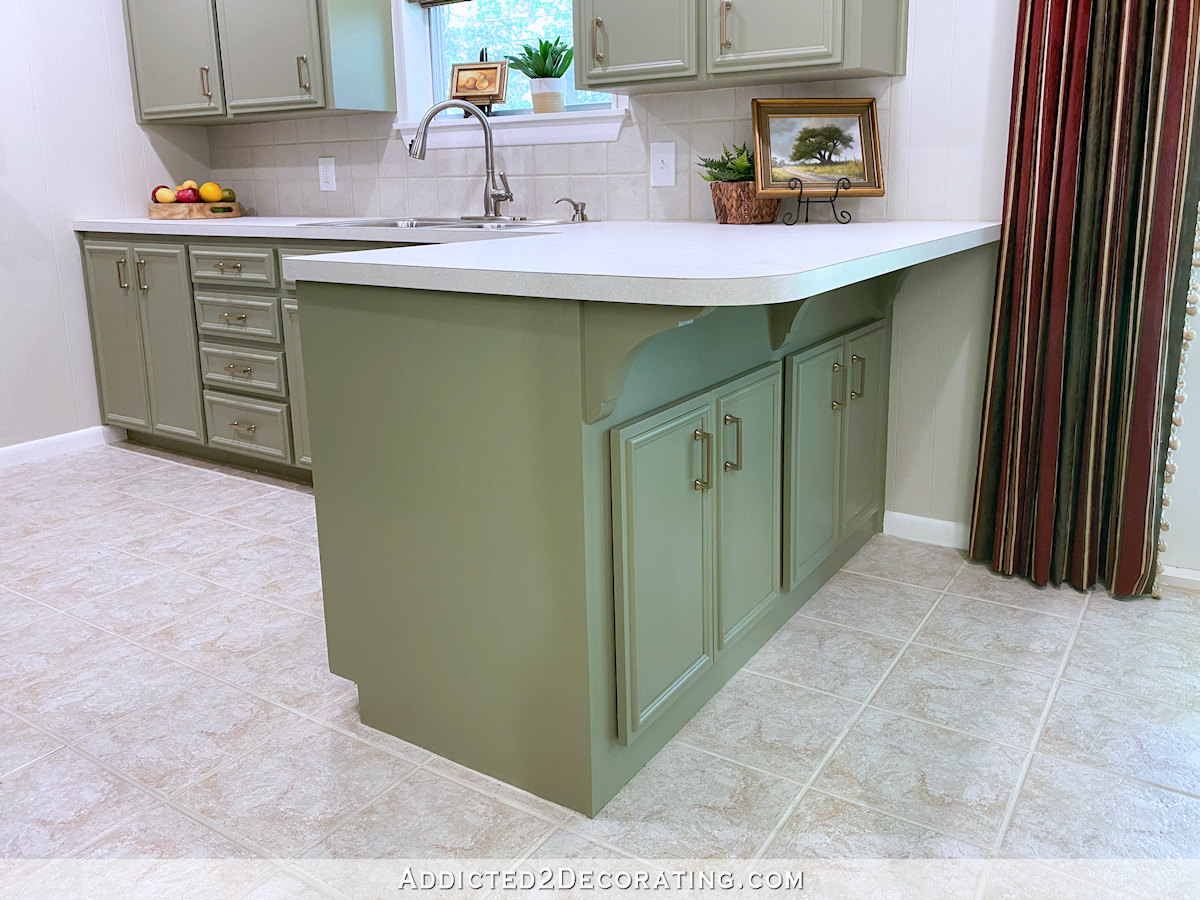 My mom had originally planned to have me build pull-out shelves for both the left and right sides of the peninsula, but as things got nearer to completion, she decided that she didn't need pull-outs on the side where she can access the inside of the cabinet from both the kitchen side and the breakfast room side since there's no way that anything on that side can get lost in the dark recesses of the cabinet.
Here's the access from the kitchen side…
…and the access from the breakfast room side…
So none of those items are in danger of become inaccessible.
But on the other side (i.e., the wall side of the peninsula), is what was originally a blind corner, meaning that it's not easily accessible from the kitchen side. So on that side, I built her two pull-out shelves, accessible from the breakfast room side, so that nothing would get lost.
I also built her two pull-out shelves for the newly-configured cabinets to the left of the stove. We actually didn't reconfigure anything here except the doors. All of the shelves stayed in the same place. She decided that everything in the upper section was easy enough to reach without any pull-out shelves.
But I did add two pull-out shelves in the lower section…
And finally, I added two more pull-out shelves in the cabinet to the right of the oven.
You'll also notice that all of the insides of her cabinets are now bright and white. This made such a huge difference!! I didn't get an official "before" picture of the insides of her cabinets, but I did find this one that shows the original color…
It was just unfinished wood that had probably gotten darker and darker as the years passed. The insides didn't even have a clear coat on them. It was just plain, raw, dark wood.
And now all of the cabinet interiors are bright and white and look so clean…
My biggest tip for painting cabinet interiors is to use a clear coat, and specifically to use General Finishes High Performance Topcoat. If you just paint the interiors of your cabinets with latex paint and leave it at that, they won't be pretty for long. Latex paint always seems to keep a slight tacky feel to it, and things will stick and scuff the paint. A good quality topcoat makes a day and night difference.
Another big change we made was to this corner where the dishwasher was.
Her dishwasher has been broken for a while, and she decided that rather than replace it, she would rather have more cabinet space. Specifically, she wanted a place to store her KitchenAid stand mixer so that she could get it off of her countertop. But she knew that if it were placed inside a regular cabinet, there's no way she would get it out to use it.
So we removed the dishwasher, and I turned that area into more cabinet space…
And then inside the cabinet, I installed a Rev-a-Shelf stand mixer shelf with a pull-out shelf below it so that she can store her mixer attachments.
There was already an outlet there for the dishwasher, so now the mixer can stay plugged in, and she can easily lift it to countertop height when she needs to use the mixer.
In addition to all of the cabinet upgrades, I also built her all new drawers. The original drawers had seen better days, and I didn't think I could get the drawer fronts off of them without completely destroying them anyway. So all new drawer boxes with soft close, full-extension drawer slides were in order.
And after seeing how I had added custom organization to my kitchen drawers, she decided that she wanted that in hers also. This is such a simple thing to do using 1/2-inch project boards from Home Depot. Just cut them, glue them, and nail them (using tiny 5/8″ nails) into any configuration you want.
Here are the ones I did for my mom…
After I finished those and went home for the day, she decided that she wanted one more drawer sectioned off, so she did this one herself.
It's such an easy, inexpensive, and fairly quick way to customize your kitchen!
There was one huge upgrade that we didn't DIY ourselves. My mom's breakfast room originally had this big picture window in it…
And she decided that she wanted that window, along with the door on the family room side of the fireplace, replaced with new French doors for easier access to her new covered patio.
These new French doors are AMAZING!! They let in so much light, and now that they're there, it seems like they should have always been there.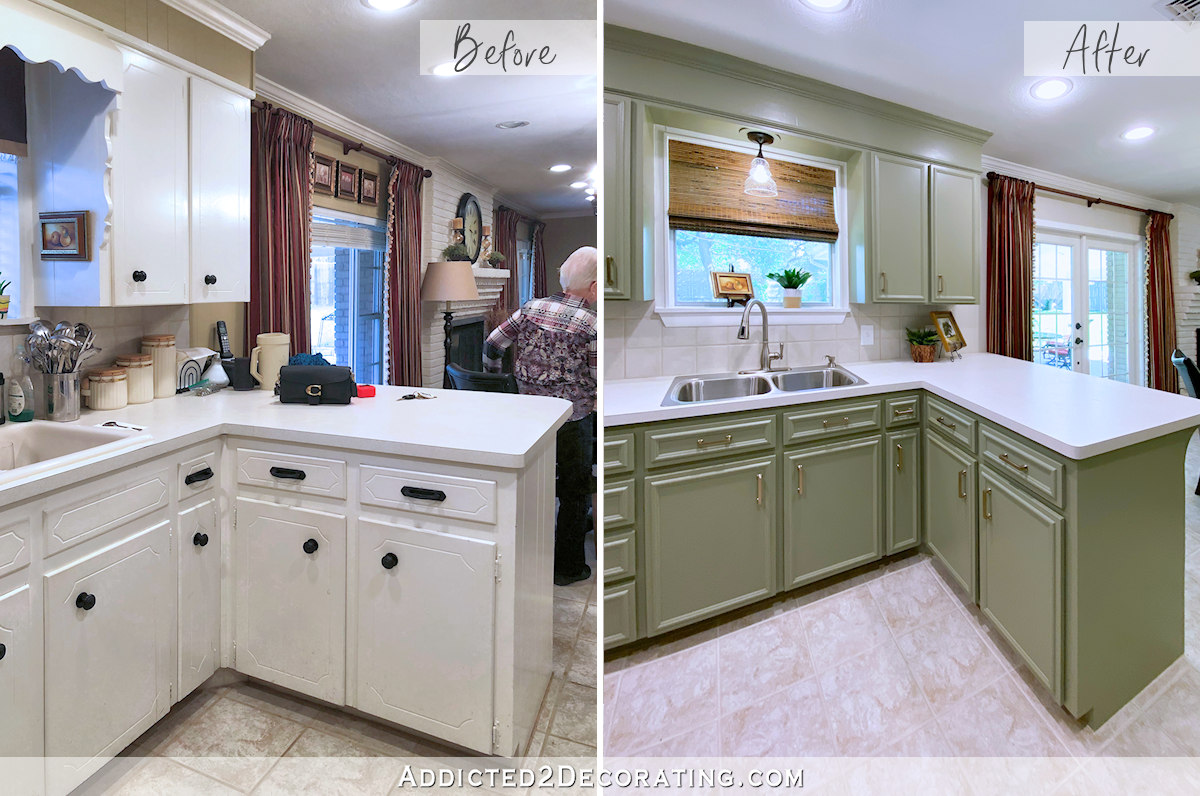 I can't believe what a HUGE difference it made swapping out a rather large window for French doors. But that change, along with removing the canopy around the kitchen window, seems to have doubled the amount of natural light coming into these rooms.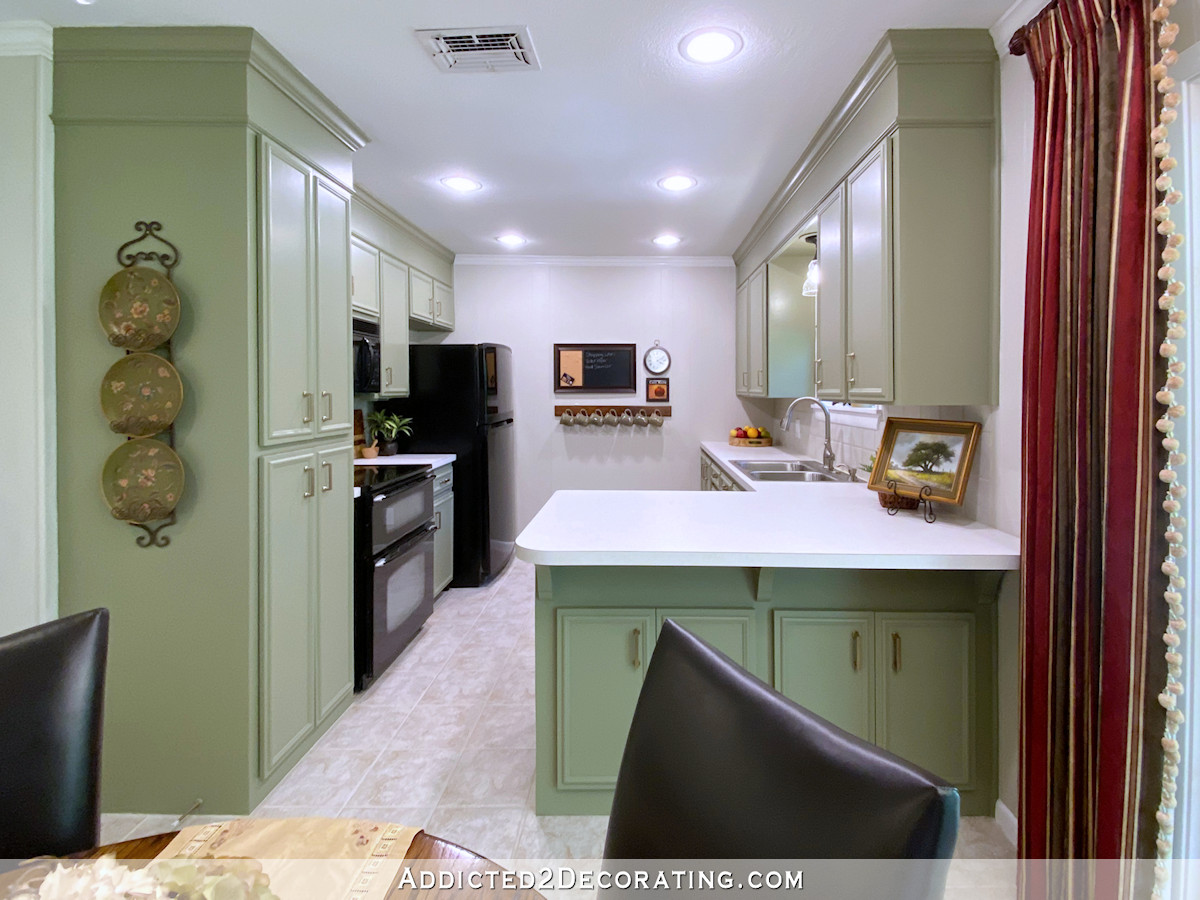 In my opinion, the one thing we did in the kitchen that made the biggest difference was taking the cabinet paint color all the way to the ceiling. In fact, it made such a big difference that several commenters in past progress posts actually thought we added new crown molding.
But as you can see here, that crown molding was there from the beginning.
It looks so much better unifying that crown molding and the space above the cabinets with the actual cabinets rather than having those areas be different colors.
We also added new laminate countertop material over her existing laminate countertops. The new laminate is almost the same color as the original, but it is just a slight bit whiter and brighter. That was a big project!
One final thing that we did was swap out the original light bulbs with GE Reveal LED light bulbs. These are my new favorite light bulbs, and they don't even have to pay me to say that (and haven't paid me to say that, FYI.)
Light bulbs make such a huge difference in how the colors in a room look. But I'll admit that I get totally confused and overwhelmed when I go to shop for light bulbs now. So after looking over the different options (and what the heck are lumens anyway? 😀 ), I decided that I liked the way the GE Reveal bulb looked on the display, so I bought one for this little light above the kitchen sink.
The light that it put out was so pretty to me — not so warm that it's yellow, but also not so bright that it's harsh and blue like those daylight bulbs are. I liked it so much that I talked my mom into replacing the bulbs in her 6-inch can lights with the Reveal bulbs, and the difference was amazing!
I think that about covers all of the changes we made. It was definitely much more extensive than a simple makeover, and we seemed to add projects as we went along. So it ended up taking longer than we had originally planned.
But I think all of our hard work payed off. My mom absolutely loves her "new" kitchen — both the look and the functionality — so that's what matters to me. I'm so happy that we could get this done for her.
Anyway, I'll leave you with a few more random pictures of this before and after transformation…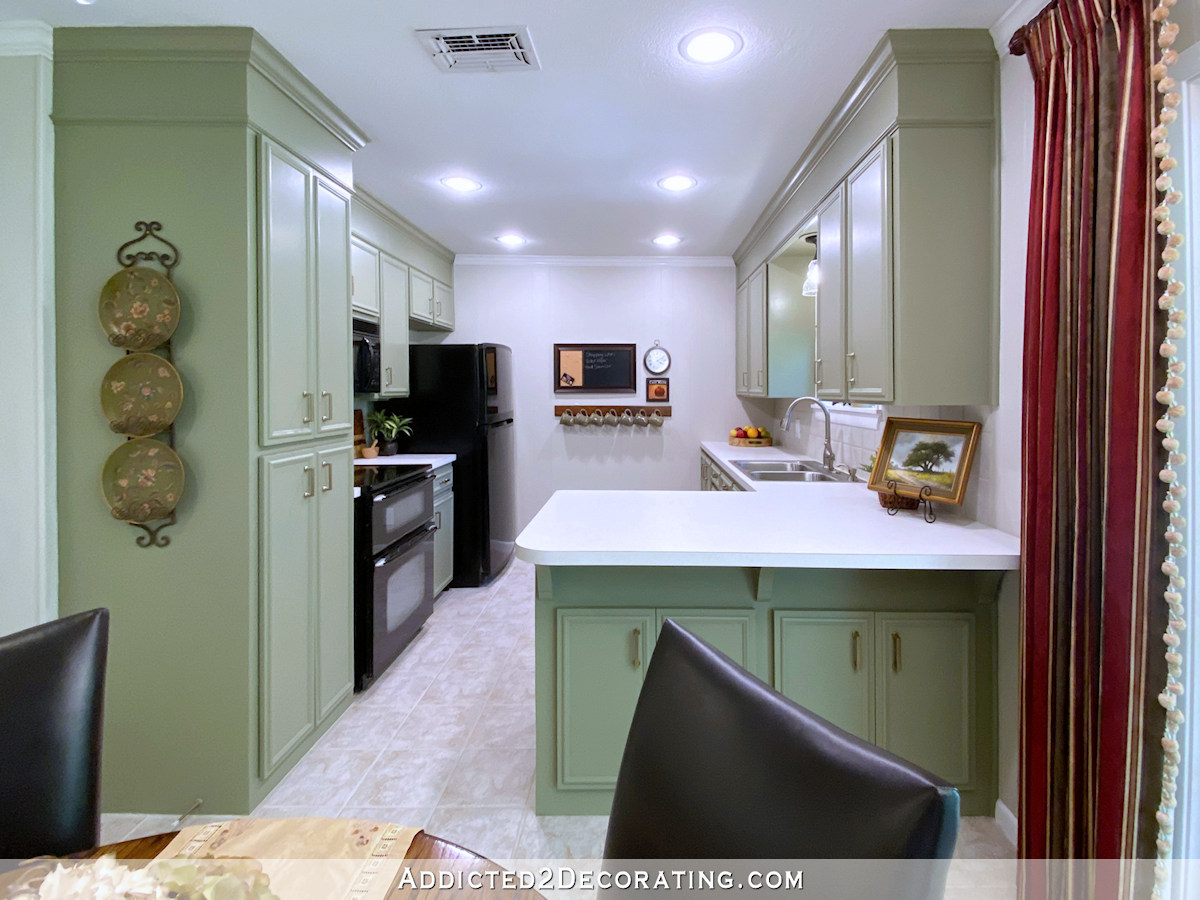 Addicted 2 Decorating is where I share my DIY and decorating journey as I remodel and decorate the 1948 fixer upper that my husband, Matt, and I bought in 2013. Matt has M.S. and is unable to do physical work, so I do the majority of the work on the house by myself. You can learn more about me here.
I hope you'll join me on my DIY and decorating journey! If you want to follow my projects and progress, you can subscribe below and have each new post delivered to your email inbox. That way you'll never miss a thing!