I finally have pictures of the whole sitting room to share with you. This room used to be our breakfast room, and at some point in the future, it will be our breakfast room again, with a dining table, dining chairs, etc. But for now, and at Matt's request, it is a sitting room with some comfy chairs where he can sit during the day and watch TV. If you're new around here, and wondering why I temporarily transitioned our breakfast room into a sitting room, you can read all about that here.
I'm thrilled with how this room turned out. We do still sit in here to eat lunch every day. Eating while sitting in a recliner has worked out really well for Matt. So he got his wish for a recliner in front of a TV, while I got my wish for a bright, colorful, cheerful room.
This little breakfast room turned sitting room is right next to the kitchen. When we bought this house, this was one large room, about 12 feet wide and 24 feet long (or something like that). This was the view of the front wall of windows. The garage door was on the left. That doorway is still there, but it now leads to my studio. The two doorways on the right led to the kitchen. The kitchen is still in the same place, but now there's no wall separating the two rooms, and the kitchen peninsula is where the wall used to be.
This is that same front wall of windows today…
And then the back half of the room looked like this…
That doorway that you see on the left is no longer there. It used to go to the back sunroom (aka, my huge storage room that will eventually be torn down). The back area of this room is what I walled off and turned into the walk-in pantry.
But the pantry is separated from the breakfast room by French doors. This wall looked like this in the original breakfast room…
And today it looks like this…
The pantry is about 7′ x 12′, so that will give you an idea of how much of the original room I walled off at the back to create the pantry.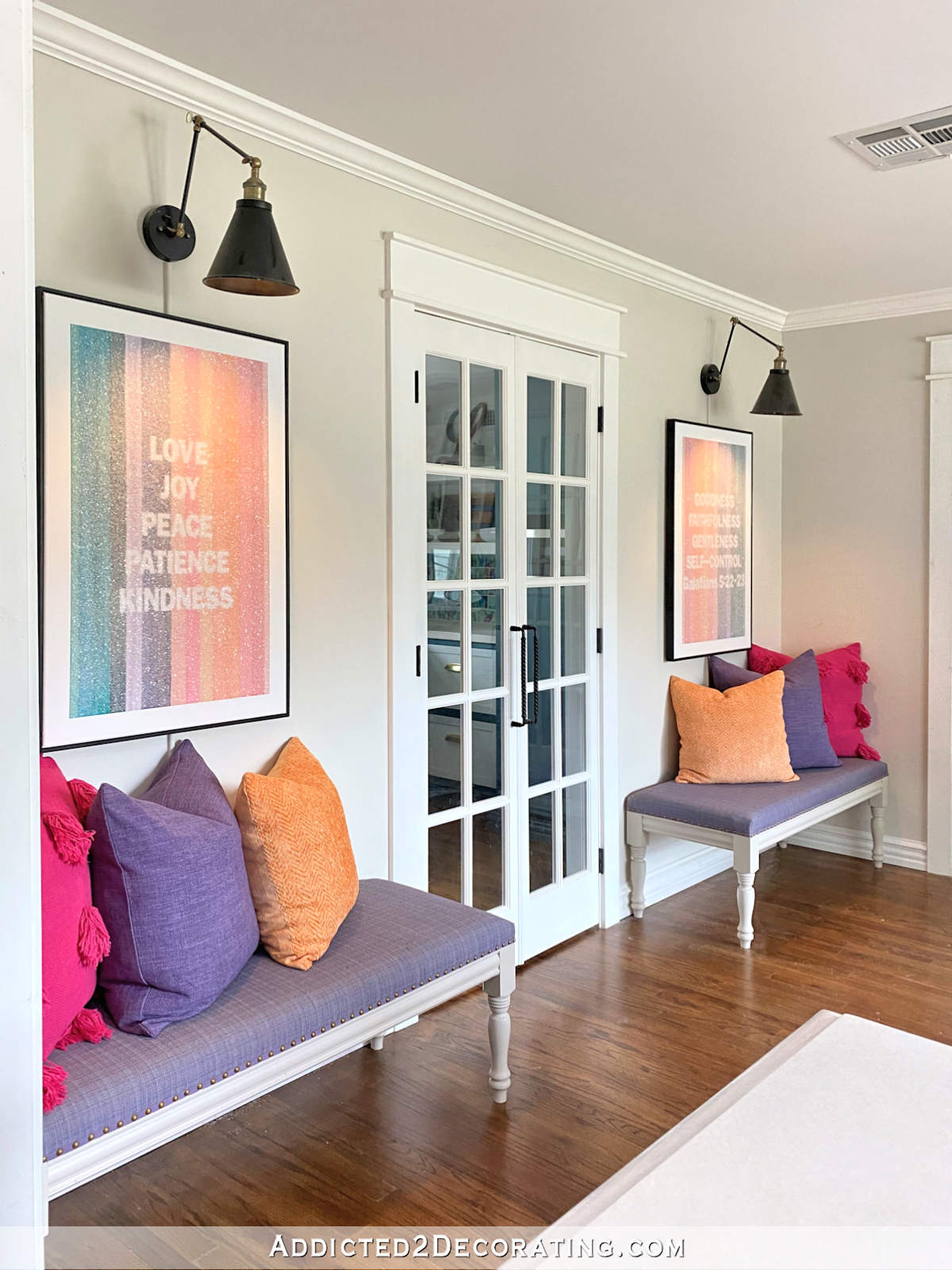 I know some of you were sad to see the original artwork go. Matt was, too. But I absolutely love my new colorful, shiny, striped artwork. This was a simple project, and the glass glitter that covers these canvases is so pretty. I wish I could capture it in a picture, but it's just impossible. They are so sparkly and shimmery that I love to walk by them and admire the sparkle. Cut glass glitter isn't your standard craft glitter. There's no craft glitter that catches the light like glass glitter does. You can see how I made these canvases here.
I didn't want to reupholster the benches, so I kept the purple (which is more grayed and dull than I would have chosen today) and brightened them up with some colorful pillows. The orange were pillows I originally bought for the first iteration of this room, but they were white, so I dyed them orange. The purple was some fabric that I had in my stash, but it wasn't purple enough, so I dyed those to a darker, richer purple. And the fuchsia tassel pillows are new pillows that I bought at Target, but they were a cream color. So (I'm hoping you sense a theme here 😀 ) I dyed those as well.
The whole purpose for this room was to have a place with comfy chairs. I found these recliners at Wayfair, and I absolutely love them. I'm 5′ tall, and it's very comfortable for me. Matt is 6′ 1″, and it works well for him, although he has to use a pillow so that he can rest his head comfortably. I'm so short that I don't require a pillow. My head rests comfortably on the back
The little side table is an old one that my mom gave me. It had a really dark factory finish on it, so I stripped it to let the natural wood shine. You can find more about that project here. And the floor lamp is from Target.
Of course, this is my favorite part of the whole room. What used to be a rather plain wall is now full of color. I built these picture ledges (a very quick and easy DIY project) and then filled them with colorful printable artwork from various Etsy shops. You can find details about the DIY shelves, as well as the sources for everything on the shelves, in this post. I kept the frame around the TV, which is something I built for the first iteration of this room, and I also repainted the buffet a darker, richer purple called Black Sapphire by Behr.
I bought the rug from Pier 1, but I wouldn't recommend getting it from there. You can find the same rug at Overstock, which is where I generally get my area rugs.
For now, while my studio is still unfinished, and the walls are still lined with boxes of things that will eventually go into cabinets, I used frosted window film on the door to the studio. When the studio is finished and actually looks nice, I'll remove the window film. I just got tired of the view of my cluttered studio through the door messing up the view of our colorful new sitting room.
So that's the tour of the new room. I love this version of the room about 100 times more than the original version of the breakfast room.
When we're ready to turn this room back into an actual breakfast room with a table and chairs, I'm hoping that I can keep everything else, and just move the chairs, side table, and lamp, and then move a dining table and chairs in. It should be an easy transition when the time comes. (And if you're new around here, that time will be after we build an addition onto the back of our house that will include a family room, laundry room, and new master bedroom.)
And I'll leave you with a few more pictures of the pantry wall. I actually considered removing the doors from the pantry and just having a cased opening there. Truth be told, I almost never close those doors, and when they're open, they feel like they're in the way because they open up against the benches.
So who knows? Maybe one day I'll remove the doors and see how it looks without them.
I love the look of French doors, but I also love my pantry. I wouldn't mind having it more visible rather than hidden behind doors.
But that's a project for another day. For now, I have a bathroom, home gym, and studio to finish. 🙂
Addicted 2 Decorating is where I share my DIY and decorating journey as I remodel and decorate the 1948 fixer upper that my husband, Matt, and I bought in 2013. Matt has M.S. and is unable to do physical work, so I do the majority of the work on the house by myself. You can learn more about me here.
I hope you'll join me on my DIY and decorating journey! If you want to follow my projects and progress, you can subscribe below and have each new post delivered to your email inbox. That way you'll never miss a thing!